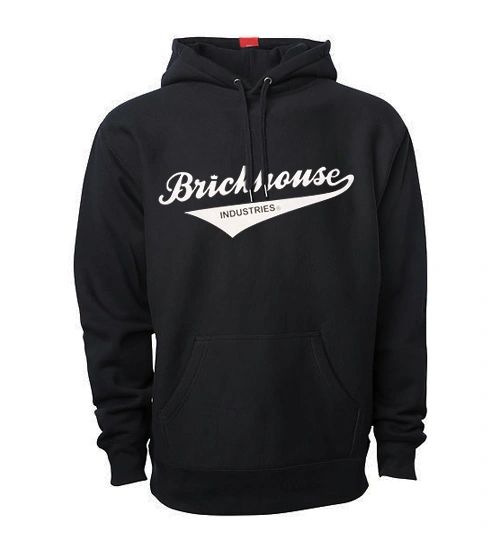 BH Heavy Hitter (Black)
BH is Built to last. The BH Heavy Hitter Men's Premium Heavyweight Cross-Grain Hooded Pullover is the best Hooded Sweatshirt we've ever made. We've gone to great lengths to ensure every detail of this sweatshirt is the best of the best and meticulously designed. From the fit, specialty yarns, and antique trims, to the way the fabric is cut, and sewn, it has everything we think a sweatshirt needs without having too much.
It's all in the details.
Sparing no expense, the Hoodie is constructed of a 13.5oz/450gm 3-End fleece fabric with a 20 singles 100% Ring Spun Cotton face yarn to achieve a stable fabric surface for printing. To limit vertical shrinkage the body panels have been cut Cross-Grain, and additions of double ribbing side panels add stretch for a comfortable fit. We chose reverse coverstitch sewing on all seams for exceptional durability, and to showcase the sewing quality. Built to perfection with our 3" long 520gm 100% cotton ribbing at the cuffs, waistband, and side panel. Finishing Touches on the Legend Heavyweight are the antique silver eyelets and drawcord tips, 100% Cotton shoelace drawcords. Featuring our classic HeavyHitter design in a soft durable ink print and woven BH label on the hood.
*Sizes Small and Medium are on a lighter Mid-weight hoodie and priced accordingly. 

Premium Heavyweight 13.5oz./450gm 3-end fleece
ring spun cotton
70% cotton / 30% polyester
100% cotton face yarns on solid colors
20 singles face yarn for a durable and textured fabric face
double fleece lined hood
antique silver eyelets
heavy duty 100% cotton shoestring drawcord with antique silver tips
double ribbing side panels for stretch
reverse coverstitch sewing on all seams for durability and a premium finish
body and hood panels sewn cross grain to limit shrinkage & shortening after wash
520gm 100% cotton 1x1 ribbing at cuff and waistband
Reviews
Featured Products